ISO 9001:2015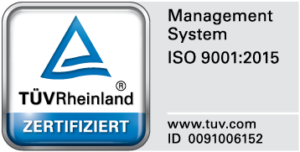 ISO 27001

Recertification achieved!
As operators of critical infrastructures, many of our customers have already been obliged to operate an ISMS in accordance with ISO 27001 for some time.
ISO 27001 has established itself as a global standard, and is one of the best-known norms for information security. It specifies the requirements for establishing, implementing, maintaining and continuously improving a documented information security management system, taking into account the context of an organization, and forms the structural basis for protecting confidential data.
As a responsible partner, there was no question that we wanted to meet the same high standards! Thanks to the excellent work of our ISMS team, led by Markus Dewerny, as well as the spirited cooperation in all departments, our company has been officially certified according to the ISO 27001 standard since July 08, 2020.
We are particularly proud of the fact that our scope, i.e. the scope of the certificate, not only refers to individual subareas and processes, but covers the entire company.