Powerful star coupler from SAE IT-systems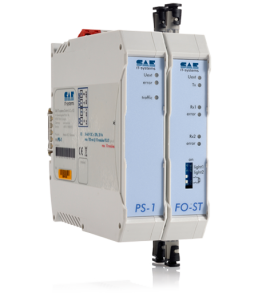 Star couplers are network components that distribute an incoming light signal as a star shape over multiple fibres. As a central component in FO networks, star couplers act like a hub to form a link between a sender and receiver. In contrast to a switch, star couplers distribute the signal line of a connected sender uniformly to all connected receivers.
There are active and passive star couplers. The latter distribute the incoming signals via passive optical components to the receivers. Active star couplers have an electrical intermediate amplifier and link several FO connections by regenerating the signals. Repeater, stations and other active star couplers can be connected to these star couplers. That means you can cascade this variant more or less anyway you want.
To satisfy the highest quality standards, we have developed our mcFO media converter.
The mcFO represents a modular media converter that bundles multiple FO signals on one RS-485 bus. This results in a star coupler, which links numerous nodes via fibre optics. The mcFO comprises up to ten FO modules each with two FO ports as well as the power supply module mcPS-1. This module has an integrated RS-485 connection for linking the transmission protocol. It supplies the connected FO modules with power via bus plug-in connectors. In physically terms, it is possible to couple up to 30 further star coupler groups at the RS-485 interface – this allowing numerous nodes to be integrated.
The media converter from SAE IT-systems represents a freely usable hardware solution for converting from RS-485 to fibre optics. No special software needed to use the mcFO as a star coupler. Plus any bit rate is accepted. A reliable glass breakage detection with automatic resetting of bus blockage allows interference-free operation of the remaining lines.
Typical application areas
Typical application areas of the media converter include
Substations
Large transformer stations
Switching stations
Gas transfer stations
Bridging explosive hazard zones in industrial plants