Powerful telecontrol with integrated LTE modem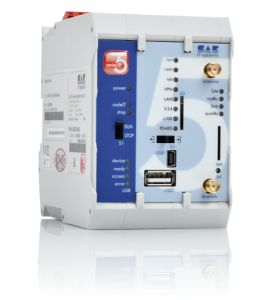 The requirements in telecontrol are continually growing. What is more, the comprehensive monitoring and control of supply networks and similarly sized infrastructures is not economically viable without a mobile radio connection. To devise bespoke solutions for modern performance requirements, we have developed the FW-5-GATE-4G. This belongs to the series5e product family and is distinguished – like all products from SAE IT-systems – by durability, functionality and above all tremendous performance. It is based in the micro remote terminal unit FW-5-GATE, but has an integrated LTE modem besides other special features. The FW-5-GATE-4G can of course also be extended individually with extension boards.
The FW-5-GATE-4G brings together powerful telecontrol technology with an LTE modem for flexible mobile radio connection. It has a modern 4G chip set and excels with high reception quality thanks to MIMO technology with two antennas. Download rates up to 150 Mbit/s and an upload speed to the station of up to 50 Mbit/s make the FW-5-GATE-4G an outstandingly powerful communication component. The ability to fall back to 3G and 2G networks allows it to operate even in areas with poor LTE reception. The bay station controller is based on the latest series5e technology, which has at least three times the performance of the series5+ generation with 1200 MIPS. It comes with convenient performance reserves, also in respect to future challenges. The enhanced performance in particular has a positive impact on network communication via IEC 61850 and process point treatment according to the IEC 60870-5-10x standard as well as in high IT security.
FW-5-GATE-4G – All in one: Telecontrol unit, router, gateway and modem
Another advantage of the compact FW-5-GATE-4G in comparison to separate units is its rapid configuration: All components of the telecontrol system are fully configured in setIT. That means there is no need to integrate or adapt an external modem. In addition, all available information from the mobile radio module must be used in the diagnostics functions of setIT. On top of this, installation in the switchgear cabinet is simplified, as there is no need for either an additional power supply for an external model or a connecting cable between the modem and station.
Typical application areas of the FW-5-GATE-4G
Intelligent local network stations with integration of power measurement devices, ground-/short circuit indicators, network analysis systems and protective equipment
Feed-in management in renewable energy plants
Control box for direct marketing and control energy
Intelligent measurement point for wide range regulation in distribution networks
Monitoring of media and infrastructure systems in pipelines
Controls for street lighting
Merging virtual power stations