Communicate cheaply but securely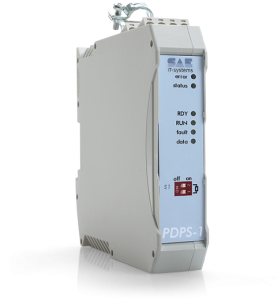 The PDPS-1 module allows for the cost-efficient integration of data points from PLC, regulators and intelligent components into the station and telecontrol technology via the Profibus DP protocol. The PDPS-1 is designed as a Profibus DP slave that only requires few configuration steps in order to operate successfully. As a bus participant, it can be placed in the Profibus phase or used as a termination device. The terminal resistor is comfortably activated via a switch on the front panel.
As an extension board from the net-line FW-5 product series, the PDPS-1 is inserted into the I/O area of the bay station controller, which also supplies it. The process data are directly incorporated into the quantity structure; no additional wiring is required. The communication parameters and the capacity to be transferred is specified via the programming software setIT (V5.001 and higher).
Application areas
Couplings to PLC
Connection to cogeneration and biogas plants
Integration of quantity control systems or external controllers / switching stations
Controllable local system in direct marketing & control energy