Compact and versatile combination protection device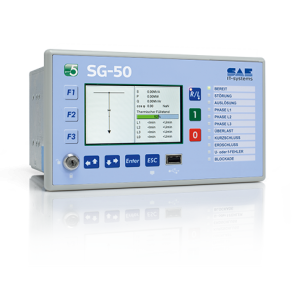 The tasks of the power grid are changing owing to the increasing number of decentralised feeders due to renewable energy. With increasing power output of the generating plants, the connection is frequently made directly to the medium or high voltage system with the result that small generation plants need to contribute towards stabilising the power grid too. The SG-50/KOMBISAVE is a compact and elegant solution to monitoring static voltage stability and supporting the dynamic power system – while complying with current standards of course. No matter whether protecting decentralised motors and feeders or safeguarding transformers and overhead cables against thermal overload: The compact all-rounder SG-50 offers extensive and powerful protection technology.
The SG-50 combination protective device is a flexible, compact all-rounder with high-precision as simple IOC and QV protection as well as distance relay. You can adapt it to virtually any protection requirement by selecting the corresponding software options. An integrated, high-resolution LED colour display makes it possible to find out the current system status at a glance directly on site.
High flexibility with the SG-50
Whether distance relay, QV protection or other protective functions – the SG-50 combination protection device can be set up for new protection tasks even when already installed by adapting the configuration during ongoing operation. This saves valuable time otherwise lost be sending in the unit. There is also the possibility of adapting system visualisation individually to customer requirements, thereby providing optimal representation of the system.
Configuration and commissioning
The SG-50 can be configured in different ways: on a clear colour display on site or conveniently from the office, at a PC. In both cases the SG-50 features clear, self-explanatory software along with the intuitive keypad and freely programmable function keys. For instance, parameters that are not required are greyed out. Configurations can be loaded into the combination protection device via USB stick by means of the USB port. Thanks to its largely self-explanatory menu guidance, the SG-50/KOMBISAVE is easy to operate. You can read off all parameters and information on the large colour display and make entries via the Keyboard.
Application fields of the SG-50/KOMBISAVE
We have developed the numerical protection and control device for use in medium voltage networks, in industry, and for decoupling protection at distributed generation plants. Typical application areas are definite time overcurrent/inverse time overcurrent protection (simple and directional); cable protection with optional ARC is integrated as well as transformer protection with two-body temperature indicator. The SG-50/KOMBISAVE not only has machinery and rotor locking protection, it also monitors distributed generation plants (QV protection). The busbar protection is established using H2 logic. The earth fault protection system is equipped with intermittent EF detection. In addition, the SG-50 has a polygonal distance relay with a total of 7 zones. All zones can be configured freely and individually in the forward or reverse direction.
Protocols and communication paths of the SG-50
Modern supervisory control centre systems use various protocols for data exchange. Direct integration of protocols in the protective device itself enables seamless connection of the SG-50/KOMBISAVE to the substation automation of various manufacturers.
The traditional protection protocol IEC 60870-5-103 or the station protocol IEC 61850 are available as communication protocols. You can choose between electrical or optical transmission for both variants. The additional option of communication via protocol IEC 61850 is in development. Implementation according to IEC 60870-5-104 is easily ensured thanks to the telecontrol of our series5 systems. It is therefore possible to use the SG-50/KOMBISAVE in distributed generation plants such as wind power plants as well.
You can find more information on the SG-50/KOMBISAVE in the data sheet of the product. Our employees will be pleased to help if you have any questions regarding our powerful combination protective Equipment.