Isolation measurement for pre-insulated district heating pipes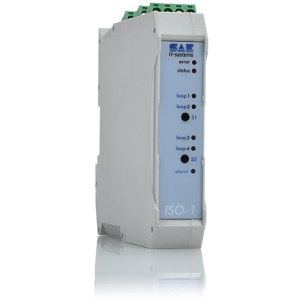 The extension board ISO-1 enables continuous measurement of loop and isolation values in district heating networks. In combination with the established telecontrol unit FW-5 it allows early detection of leaks and faults in the network, thus avoiding costly consequential damage. Installed in a switchgear cabinet or in compact industrial housing, the ISO-1 can be mounted in the structures of section fittings or in above-ground junction boxes. Simple top-hat rail assembly of the individual units means existing switchgear cabinets can be retrofitted with ease. The ISO-1 measures the loop and isolation values in the desired cycle and the telecontrol transmits them to the control centre via standardised IEC 60870-5-101/-104 protocols. Permanent monitoring allows critical states such as leaks, outside moisture or wire breakage during construction to be identified and reported quickly.
When there is a break in the loop, the card is able to switch automatically to Service mode, that protects the measuring equipment from surges caused by welding work. Service mode can also be enabled locally or from the control centre. All of the card alarms, as well as Service mode, can be reset with control commands locally or remotely.
The ISO-1 is available for series5e systems from setIT V6.000.