Uncomplicated, fast and simple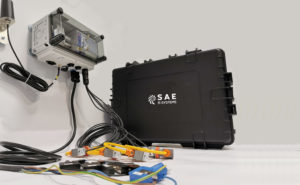 Virtually all network operators are faced with the challenge of creating transparency in the lower voltage levels without being able to equip all resources with stationary measurement technology. A rollout of stationary LV metering for all stations would usually be neither economically nor organizationally feasible.
One solution is our mobile measuring equipment, with which the most important parameters can be checked quickly and reliably. This not only allows problems with the equipment to be identified at an early stage, but also enables customers' connection requests for wallboxes, PV systems and heat pumps to be processed more efficiently.
The heart of the mobile solution is the FW-5-GATE-4G telecontrol device with PM-1-R modules for connecting Rogowski coils, for parallel measurement of up to 3 low-voltage feeders. The measured values can be transmitted directly to the control center via IEC 60870-5-104 protocol or to the cloud via MQTT. There they are displayed live. The measurement case thus helps to locate strategically important points in the network where permanent monitoring of the low voltage makes sense. Flat gripping magnets make it particularly easy and quick to attach the measurement box for short-term use.
This basic product can be adapted to the requirements of different applications by specific additions. For example, we can also develop a solution for you that can measure up to 12 low-voltage feeders. In addition to 4G communication technology, a 450 MHz version (CDMA) is also available (LTE 450 is in preparation).