Flexible and efficient measurement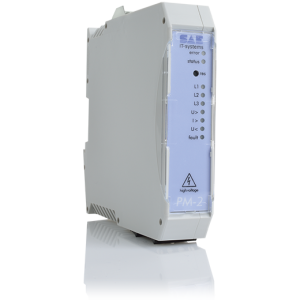 The extension board PM-2 allows cost-effective measurement of relevant power values in low and medium voltage systems.
Various measured values such as frequency, power and phase displacement angle are directly available for the evaluation of the utilization of the equipment, the evaluation of the quality and stability of the voltage as well as the identification of anomalies in the distribution network.
As an extension board for the net-line FW-5, the PM-2 is inserted into the I/O area of the RTU. setIT offers the specification of the measurement parameters and the selection of measured values from V6.000. The values are integrated directly in the process data from where they can be monitored, sent and recorded based on custom criteria.
Typical application areas
Local substations
Decentralised power plants
Systems with decentralised power distribution
Industrial systems
Comfortable power measurement
The power measurement module PM-2 is connected to LV or MV systems via measuring transformers. Low voltage measurement can be carried out directly, thus eliminating the need for expensive components. All values are calculated directly in the module and do not burden the core process.
Additional values can be determined via the calculation value function in the RTU.
Easy integration
The PM-2 module is used as an extension board to FW-5 and FW-5-GATE series5e systems. It is inserted directly onto the TBUS of the RTU. Configuration is integrated fully in setIT.
You can scale measurement parameters and perform a configuration phase by phase of the transformer ratios. Individual lower voltage limits can also be set.
Overvoltage and overcurrent are set automatically. The relevant measured values are selectable and integrated directly in the process image of the RTU.
Further evaluation can take place with the four-level limit monitoring of the measured values and the indication/logging functions.