Powerful telecontrol with integrated 450 MHz CDMA modem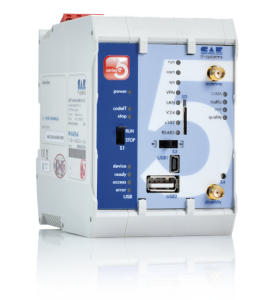 The 450 MHz frequency band is a globally active mobile radio spectrum with tremendous building penetration down into basements and an especially high range of up to 50 kilometres. The network enables operators of critical infrastructures to communicate via an independent platform that is not used by the wider public. This offers considerable advantages:
Significantly higher availability, as the communication paths cannot be negatively influenced by other users (for instance at major events)
Self-contained buffering of the radio cell to ensure communication capabilities even in the event of a voltage drop
Encryptions and secure login scenarios enhance the security level
The network is optimal for transmitting smaller data packets, e.g. control commands
A high number of stations can be connected
Free choice of transmission protocol thanks to PPP-linking
Further services can also be used in parallel
This allows system operators, providers and public utilities to handle demanding communication and automation applications over the 450 MHz frequency.
The FW-5-GATE-450 brings together powerful telecontrol with a 450 MHz CDMA module for flexible mobile phone connection. With its dual antenna, the radio module provides a link to control and energy management systems with high availability. The downlink and uplink speeds of the module and network are optimal for transmitting switching commands and for ensuring smooth communication. The bay station controller comes with convenient performance reserves, also in respect to future challenges.
FW-5-GATE-450: Telecontrol station, router, gateway and modem in one
Another advantage of the compact FW-5-GATE-450 in comparison to separate units is its rapid configuration: All components of the telecontrol system are fully configured in setIT. This means there is no need to integrate or adapt an external modem. In addition, all available information from the mobile radio module must be used in the diagnostics functions of setIT. On top of this, installation in the switchgear cabinet is simplified, as there is no need for either an additional power supply for an external model or a connecting cable between the modem and station.
Typical application areas of the FW-5-GATE-450
Substation and bay station controllers in secondary unit substations and medium voltage switching stations
Controllers for distribution network automation and feed-in management in accordance with the Renewable Energy Law
Monitoring and control device for utilities and waste disposal as well as industry
Data acquisition and communication system or protocol converter in transport and infrastructure applications